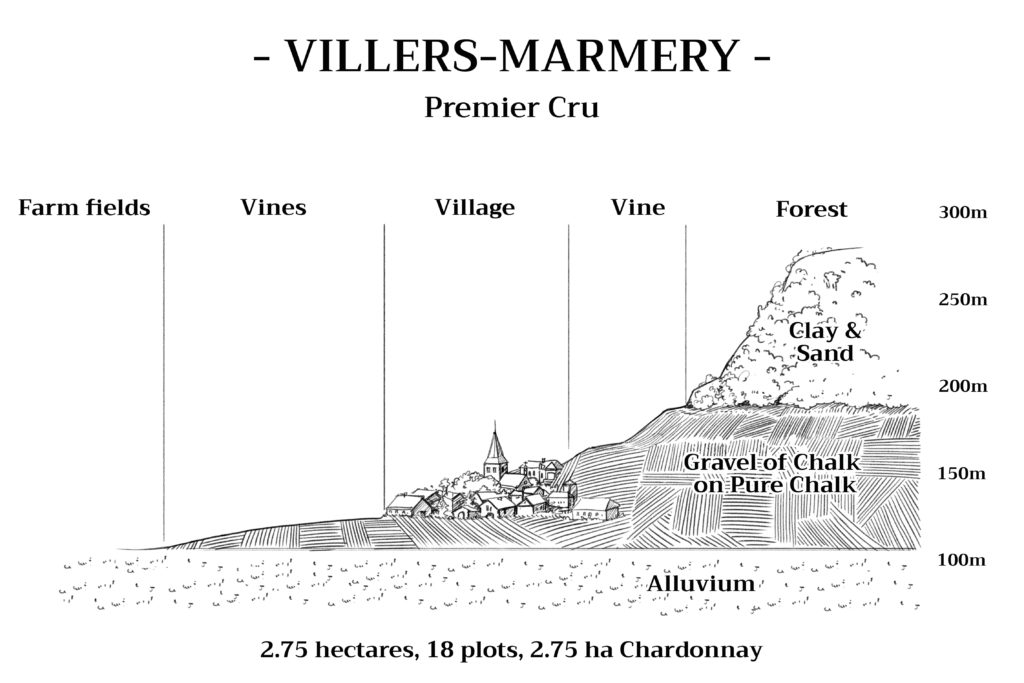 Full east exposure for this village with 4 fingers of gloves whose ridges on gentle slopes running from 125m to 170m can look both north and south.
The soil composed mainly of silt and clay is very fine, a few centimeters below the surface quickly give way to chalk, in the form of pure chalk gravels of small size which thickens slightly in depth, mixed with more silty chalk gravels which gives a floral and creamy character to Chardonnay.
This fragmented chalk is the result of freeze-thaw episodes during the Quaternary which broke the chalk and led to the erosion of the surface in a heterogeneous way.
ideal conditions and represents 99% of the grape variety in the village, which makes it unique in a region that almost exclusively bears Pinot Noir
Chalk is present in large proportion in the soil while it exclusively composes the subsoil. The fact that it is in the form of small pieces makes it much more washable (easy to dilute) with water.
This airy structure also makes it easier for the roots to plunge into the subsoil as well as the dilution and absorption of mineral elements by the rootlets which can enclose the small pieces for better consumption.
The plots therefore carry minerality, but also a lot of freshness linked to this ability of the vine to descend easily and very deep into the chalk (always the depth where it synthesizes aromatic molecules of chalk which turns to menthol and attaches to the chalk. cold receptors on the palate), but also on the round and fleshy fruit due to the sunshine that can quickly turn south. Precisely, our plots face mainly south, where photosynthesis is more important, and give a round fruit, typical of Chardonnay de Villers-Marmery, coupled with the minerality of blackboard chalk, whose freshness comes from deep chalk, in which our roots descend to feed. We vinify mono-terroir cuvées exclusively made with Chardonnay from Villers-Marmery such as our Blanc de Blancs blended in Solera or the Marie-Amélie cuvée.
They can come from a blend of several harvests or a single year (vintage). The village chardonnay also brings minerality, roundness and freshness to blended vintages of grape varieties.